select
home | news | bio | music | facts | photos | misc

---
News > Calendar of Events
May 14, 2003
"Try It On My Own" on VH1's Top 20!
from the Platinum Club - Whitney's "Try It On My Own" has moved up one spot on the VH1 Top 20 Countdown to number 19! Catch VH1's Top 20 Countdown premiering Friday, May 16 at 3:00 a.m., Saturday, May 17 at 10:00 a.m., Sunday, May 18 at 8:00 a.m., and Monday, May 20 at 9:00 a.m.!

April 28, 2003
Whitney on VH1's Divas 2003 !
from VH1e.com - Queen Latifah will host this year's VH1 Divas show, titled Divas Duets. Continuing in the Divas tradition, VH1 will be bringing together some of the biggest names in music for an exclusive, high-voltage night of unforgettable performances by Celine Dion, Whitney Houston, Mary J. Blige, Chaka Khan, Beyonce, Lisa Marie Presley, and Jewel. VH1 Divas events have always provided unique duets and this years show will place even more emphasis on that as we pair together artists to create outstanding performances. Divas Duets will air live in the U.S. on VH1 beginning at 9 PM ET. The show premieres on VH1 Europe Saturday 31 May at 20:00.

April 17, 2003
Whitney To Appear on Boston Public!
from whitneyhouston.com - Whitney wrapped up filming for an appearance on the Fox network's hit show Boston Public on Wednesday, April 16. The show will be the season finale and it will air on Fox Monday, May 12 at 8 p.m. EDT in the US. Check local listings for all scheduled airtimes and channel information.

April 9, 2003
"Try It On my own" video premiere
from whitneyhouston.com - Whitney's video directed by David LaChapelle for her new single "Try It On My Own" will premiere on BET'S "106 & Park" in 2 days -- Friday, April 11! "106 & Park" airs from 6:00pm - 7:30pm ET. Check your local listings for scheduled airtimes and channel information! Tune in and set those VCR's!

November 18, 2002
Whitney [U.S.] TV!
* Nov. 22: MTV Europe Music Awards, MTV from 8 p.m.
* Dec. 3: "Driven: Whitney Houston" on VH1 at 9 p.m. ET
* Dec. 4: "Driven: Whitney Houston" repeat, VH1, 4 a.m. ET
* Dec. 4: "Primetime" interview, ABC, 9 p.m. ET
* Dec. 10: Times Square concert on ABC's


Good Morning America


Check your local listings for all air times!
source: MTV, VH1, Platinum Club, Arista

November 9, 2002
'One Of Those Days', Nov. 14...
According to MTV USA Total Request Live schedule, Whitney's new video will premiere Nov. 14 on TRL. The show starts at 3 PM ET. Be sure to set your VCRs!

October 22, 2002
Whit at MTVEurope Awards, Nov 14 !
MTV just announced that Whitney Houston would appear at the 2002 MTV Europe Music Awards on November 14 in Barcelona. She will perform 'Whatchulookinat'. The show will air live on MTV in Europe November 14, from 9 PM CET. If you're not in Europe, just check your local MTV Network schedule to know when the show is broadcast in your area.

'One of Those Days' on MTV, Oct. 30!
According to MTV, 'One Of Those Days', the first [US] video from Whitney Houston's next release, Just Whitney , is scheduled to hit the airwaves on October 30 in the US. 'Whatchulookinat', the first video for overseas viewers, aired for the first time on Oct. 4 in Europe. European fans, be on the look out for that video! All MTV Networks (VH1, MTV, MTV Base...) are playing it extensively at the moment.

September 24, 2002
New video in October
Whitney was supposed to film the video for 'Whatchulookinat' in August but the shoot was canceled, then rescheduled. She completed filming on the video over the past weekend. The video will air for the first time in October. Stay tuned for more information on exactly when and where you can view the video!

September 16, 2002
New Album November 25
Whitney Houston's new album, Just Whitney, hits store shelves on November 26, 2002 (Nov 25 internationally). The disc will be available in a special Limited Edition package that includes a DVD featuring clippings from the "My Love is Your Love" tour.

August 9, 2002
Album in November?
The new Whitney Houston album may have been pushed back again, this time to November 2002. The album has a working title of 'Just Whitney'. The new video has not been released yet.

August 3rd, 2002
Video, LP, single...
The new Whitney video will be delivered to BET, MTV, and VH1 on August 9th.
Album due September 17 in the US (16 international)
Single ('Whatchulookinat'): August 6 (vinyl), September 2 (CD)

July 19, 2002
Latest release dates
Amazon.fr reports Whitney's new album is set for release on September 16 in France. And according to BMG Germany, the single, entitled "Watchulookinat", is expected to be released September 2 in Europe.

June 29, 2002
1st single/TentativeAlbum release date
According to an Arista release sheet, Whitney's first single will go for impact on July 29. The full CD is scheduled for a September 17, 2002 release date. They don't have a working title for the single.(from whitney- fan.com)

June 11, 2002
Album delayed
Arista now say that Whitney's new album release date has been pushed back to October 8.

May 20, 2002
On TV: Down 4 U
Look out for Whitney and Bobby Brown in Ja Rule's new remix video for 'Down Ass Chick'. The couple appear on the beach briefly sharing a toast. All MTV networks are playing the video and MTV Base in the United Kingdom is playing it extensively.

May 18, 2002
In stores August 6th
Arista Records have confirmed a planned release date of 6 August 2002 for Whitney Houston's new album (5 August internationally).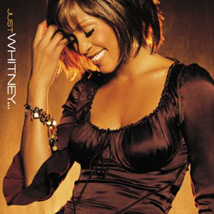 Rock On TV
Whitney
TV appearances
also see:
TV Now