select
home | news | bio | music | facts | photos | misc

---
Misc > Reviews
Just Whitney
2002

*****

ALBUM REVIEWS
What the Critics Say

Amazon.com (12/02) - Whitney Houston recaptures some former glory on her first studio album, thanks to her undiminished vocal prowess and a cadre of impressive producers that includes Kevin "She'kspere" Briggs, Babyface, Teddy Bishop, and Troy Taylor. Houston's pipes shine in the big break-up ballad "On My Own," which is cut from the same mold as 1993's massive "I Will Always Love You." But while her vocal chords are intact, some of the material here leaves much to be desired, including a flat version of Debby Boone's "You Light Up My Light" and the Missy Elliot -penned and -produced "Things You Say." On the plus side, the feisty "Tell Her No" finds Houston on defense, but she's much more interesting with her back against the wall as she huffs: "I can't wait for the day I can rub things in your face." The embattled diva doesn't attempt to gloss over her foibles, as evidenced by "Unashamed" ("Listen here and listen good/ I'm unashamed of the life that I lead, unashamed of the strength of my need"), "Love That Man," and "Whatchulookinat," a body slam at the tabloids that have documented Houston and hubby Bobby Brown's very public falls from grace. Houston may not have recovered her hegemony of the charts, but this album proves she's once again pointed in the right direction. --Jaan Uhelszki

Amazon.co.uk (11/02) 'Just Whitney' is the follow-up to Whitney Houston's career reinventing comeback album, 'My Love Is Your Love', and it finds the former soul-pop star settling comfortably into the role of R&B elder stateswoman. As with its predecessor, the R&B big guns have been wheeled out to ensure the slickest production an artist of her standing can buy. So while instant hits are thin on the ground, the efforts of Babyface and Destiny's Child collaborator She'kspere ensure that the likes of "Tell Me No" and "One Of Those Days" roll to superior and enduring grooves, while the Missy Elliott penned and produced "Things You Say" is gorgeous down-tempo smoulder. Above all though, Just Whitney is an uncharacteristically personal album. Clearly prompted by press reports of breakdowns and alleged drug problems, strident first single "Whatchulookinat", with its defiant "the same spotlight that gave me fame's trynna dirty up Whitney's name", makes plain her feelings towards the press. Likewise, gospel-tinged duet with husband Bobby Brown, "My Love", ably quashes rumours of their marriage's demise. Unwelcome as Houston no doubt finds such trials and tribulations, the effect on her music is unquestionable. Just Whitney has more substance and soul than any album in her 120 million-selling back catalogue, assuring that in the oversubscribed world of R&B, Whitney is still very much a contender. --Dan Gennoe

Album Description
DVD includes 'Whatchulookinat' Video, 'Love To Infinity' Megamix Video and 'Whatchulookinat' Behind The Scenes Footage.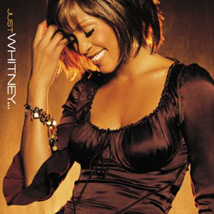 Release Date: 12/2002